· 3 min read
I-Who? Meet the Zen Nano Plus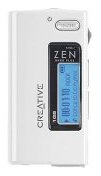 This is a review of my new portable MP3 player, the Creative Zen Nano Plus 1GB, an excellent alternative to the Apple iPod Nano.
The Apple iPod Nano has been gaining a lot of hype recently, both positive and negative. I'm not one to buy into hype, and I tend to look for practical over extravagent. The Creative Zen Nano Plus targets just such an audience. Though I still think that the iPod Nano is an good choice for typical consumers, its feature set and high price point make a technical savvy user such as myself look elsewhere.
My primary interest in a hardware MP3 player is to use it as a portable device while driving to and from work in the car. I want to wake up every morning, put the latest Audiobook, Podcasts, or language learning MP3s on it, and head off to deal with the rest of my busy day.
As a Linux user, my requirements are a little more stringent than most MP3 users. Any hardware purchase that I make must work in Linux. And by work, I don't mean third-party hacks by volunteer developers, I mean actual, honest to god, standard support without any proprietary hooks or extensions.
To this end, the Zen Nano supports a standardized USB mass storage interface. Simply plug your Zen into the USB port, and copy your MP3 files over just as you would for any other hard drive. The Zen Nano even supports folders to organize your files, though they aren't hierarchical. Though the iPod also supports USB storage, its obfuscated storage format pretty much necessitates the use of the iTunes software, unsupported on Linux without tools like WINE. Strike one against the iPod Nano.
Though the Zen Nano gets only 12 hours of continuous playtime, compared to the 14 hours with the iPod Nano, the use of a standard AAA alkaline battery is a huge win for me. Battery technology has come a long way in recent years, and it's nice to be able to use devices that take advantage of it. With devices like the 15-Minute Rayovac Battery Charger for NiMH AAA batteries, which allow for up to 500 charges, this one is a definite no-brainer. As an electrical engineer, I've taken courses on power systems, and let me tell you: like all chemical batteries, the iPod Nano batteries will eventually fail on you, and they are not user-serviceable. Strike two against the iPod Nano.
It would be nice if the Zen Nano had more than 1 GB or storage, but otherwise, feature for feature, it beats the iPod Nano hands down. In addition to its backlit screen, the Zen Nano offers a FM tuner, a FM recorder, a voice recorder with built-in microphone, and a built-in mp3 encoder with line-in. Many of these features are available on the iPod, but with the Zen, these items are all packed into one little unit. Strike three against the iPod Nano.
Lately, the Apple iPod series has also gotten a lot of negative press about failing batteries and shoddy workmanship, especially with respect to the iPod Nano. While I'm sure that many of these reports have been greatly exaggerated, it has still left me with a bad impression.
The Zen Nano targets a different consumer market than the iPod Nano. But if you're looking for a tiny, durable MP3 player that gets the job done without any fluff, look no further than this excellent purchase. (9/10)